Slider Windows in Columbus, OH & Surrounding Areas
Your Horizontal Window Solution
Slider windows are perfect for spaces that can only have a horizontal window, such as a basement or game room on the bottom level of your house. They are also used in large windows that have a 3-panel setting, and are frequently found in bedrooms, living rooms, and great rooms. With two or three rolling units, they offer a great deal of ventilation. Simply roll the window along a track to the side, and you now have fresh air with no horizontal obstruction.
They are energy-efficient not only because they have special solar coatings, but because they contain strong weather seals that keep out dust, water, and other contaminants.
Vinyl Sliders Offer a Modern Style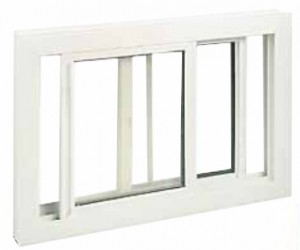 These windows fill a niche that other windows can't:
They have several options available, depending on your home and your taste. For instance, if you have a skinny horizontal window, it's often best to replace it with a slider so that you will get will air and light in your room or area. You can order them with several sliding units to fit your home and to give you more ventilation.
They are easy to maintain. This kind of window needs only to be washed with gentle dish soap on the frame and regular window cleaner on the glass pane. That's it! No painting is involved.
They are energy efficient. Using today's technology, these windows are coated with a material that reflects heat during the summer and deflects cold during the winter.
There are many options for placing vinyl replacement slider windows in your home:
Living Rooms
Great Rooms
Bedrooms
Family Rooms
Kitchen
Smaller Bathrooms
Slider Style and Color Options
You can choose frame colors to match the paint on the inside of your home or the siding or brick on the outside. We even have wood laminate for a warm, elegant look. You can choose decorative grilles and beveled glass to create a customized look.
Contact Us Today
If you're considering vinyl slider windows for your home, call The Freedom Windows today at 614-798-1133 or complete our complete our contact form. We're happy to talk about what you'd like for your home, and we always provide free estimates.