Replacement Windows & Windows Installed in
Our Passion is Our Planet
We ALL share ONE Earth. It's in everyone's best interest to protect it.
Recognized by Popular Science as one of the "100 Best Inventions of the Millennium", our New HEAT MIRROR Solar Film Technology in The Freedom Window will significantly lower your energy bills, while helping to SAVE THE PLANET!
Here at Freedom Windows, we take this responsibly seriously and we are committed to delivering the worlds highest performance window products that save energy costs, while helping to save the environment.
Looking for the ENERGY STAR label is a simple way to save you money and help protect the environment. Now the EPA introduces ENERGY STAR Most Efficient 2017, a new distinction that recognizes products that deliver cutting edge energy efficiency along with the latest technological innovation. It's an award that truly represents the best of ENERGY STAR.
Be a part of the Go Green movement! BOOK NOW to learn how you can make a difference while updating and adding value to your home!
Backed With Our "Peace of Mind Promise" We've got you covered!
Replacement Windows & Entry Doors in Columbus OH & Surrounding Areas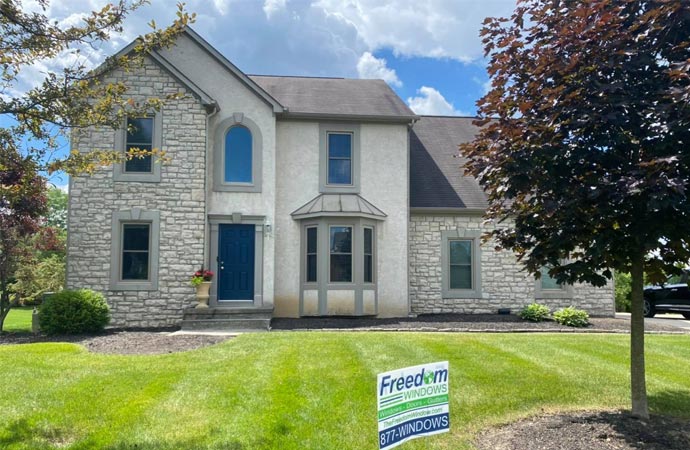 Providing Entry Doors, Patio Doors, Siding, Gutters and much more.
Let us take the worry out of your home improvement project. From your initial consultation with one of our Freedom Professionals, to your installation and our follow up walk final walk though, we've got you covered from start to finish!
Founded in 1984 with the promise of superior service to the construction industry, our installers and technicians have consistently strived to outperform their own high expectations. Combining high quality products with the most knowledgeable staff in the industry, we go out of our way to make sure your job goes as smoothly as possible.
We don't stop just because your project is finished, we will protect you, your family, and your home with the best warranties available in the industry today. Everything from a Lifetime "no fault" glass breakage warranty to a Lifetime screen replacement warranty, we've got you covered! No fine print, for as long as you own your home!

Contact The Window Installers in Amanda For Your Replacement Window Needs - The Freedom Window
Insured, licensed, and bonded, there's no more need to worry! FREEDOM means Peace of Mind!
Going GREEN has never been more affordable! Contact us today at 614-798-1133 for a free estimate.