French Door Installation in Columbus, OH
A French door can lend a home a touch of elegance, a fact that makes the swinging patio door a favorite among homeowners. If you'd like to spruce up your home with this type of door, Freedom Windows has the selection you're looking for and the installation know-how you need. We have thousands of satisfied customers in Columbus and other communities in the area in Ohio.
Benefits of Installing Your French Door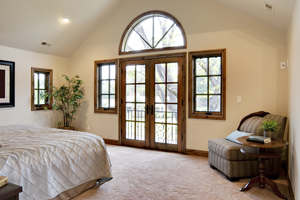 When you choose Freedom Windows to install your French door, you'll reap a number of benefits, such as:
Durable construction – Our doors are manufactured by Kensington High Performance Products, a company that is known for producing some of the best windows and doors available.
Greater energy efficiency – By limiting the heat transfer between the interior of the home and the outdoors, your new French door can help keep your home cooler in the summer and warmer in the winter.
Aesthetic appeal – Each of our doors has classical flare, and you can choose from our many grill styles and hardware finishes to create the perfect combination for your home.
Efficient installation – You can only enjoy all the benefits of a well-constructed French door with proper installation. At Freedom Windows, our installers are factory-trained and accredited by the American Window and Door Institute (AWDI), so you can trust that they'll get the job done right.
Interested in Learning More About How You Can Get a New French Door from Freedom Windows?
If you'd like to find out more about our French door installation service, you can visit our showroom of house windows and doors located in Columbus, OH, or contact us today. Also, feel free to ask about the entry door options and vinyl windows we install in Columbus, OH and throughout the rest of the area.
If you're interested in an entry door or new home windows, and you live in Columbus, OH, Contact Us or call us today at 614-798-1133. We will be happy to provide you with information on our front doors, French door options, sliding patio door options, and replacement windows.