Double Hung Windows in Columbus, OH & Surrounding Areas
The double hung window has always been one of the more popular window options for many homeowners. The two main reasons behind its popularity are its traditional appearance and its limitless customization options. You can find double hung windows in different colors, shapes, sizes, and finishes. You can even add grilles or decorative glass to give it a more elegant and personal touch.
It's easy to see how double hung windows suit several home styles. However, this type of window isn't only known for its looks. It also offers the following benefits and advantages that can improve your property's environment, as well as your lifestyle: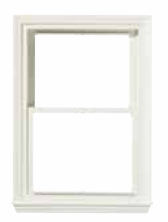 Excellent Ventilation
Even though the bottom half of a double hung window is the only operable piece, it can still provide your living space with excellent ventilation. Just lift the window up, and you'll fill the indoors with fresh air in no time.
Improved Energy Efficiency
Many of today's double hung window systems feature energy-saving capabilities. They come with window glazing, Argon or low-E glass, and a tight construction that prevents air from escaping or entering your property.
Hassle-Free Maintenance
One of the best things about double hung windows is that they're very easy to maintain. To ensure that they look good, all you have to do is use a window cleaner for the glass and a mild dish soap mixture for the frames. They don't have to be repainted since their frames and sashes are made of vinyl.
If you think your home in Columbus, Ohio will benefit from double hung windows, contact Freedom Windows today. Our company is a proud distributor and dealer of quality double hung windows, and we have both newly constructed and replacement window options available.
If you're having trouble finding windows that fit your needs, our window experts will gladly assist you. We can show you which styles and customizable options will give you the best value for your purchase so you won't go over budget.
Plus, our window installers will handle the window installation for you. We're highly skilled and experienced in carrying out this task, and we make sure that the entire process is done with zero mistakes or delays. Just give us a call at 614-798-1133 and we'll be ready to answer any of your questions or concerns. Contact us today for a free estimate!