Entirely Recyclable, Zero-Emissions, Zero-Carbon, Sustainable Glass House in Stuttgart, Germany — Heat Mirror Technology
Who would have guessed that an entirely recyclable, zero-emissions, zero-carbon, sustainable house could be such a style icon? House R 128 by the architects at Werner Sobek brings the best of both worlds to the table.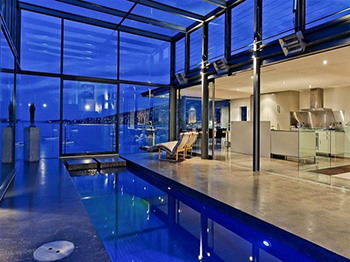 Rising four stories in Stuttgart, Germany, this modern glass edifice has nothing to hide.
The see-through house features a facade of triple-glazed windows that allow natural light to filter through and flood every room inside.
The home's front facade features photovoltaic panels that power the house and light it up when the sun goes down.
Adding to its amazing sustainable features, the house also boasts geothermal energy and cooling.
The modern modular design – including its wooden floor and facade – is designed for easy assembly and dismantling, so not only is this innovative house off-the-grid, it's also reusable, and completely recyclable!
Accessible by a bridge above the kitchen and dining room, the 2,706-sq.-ft. home offers a warm welcome with a contemporary edge. Minimal style is king at House R 128, which has no interior walls, and a few modern pieces that characterize the home's open-concept living areas.
What Kind of Windows Are Advanced & Specialized Enough for This Glass House?
Specially manufactured using a state-of-the-art glazing system that secures a unique kind of film between sheets of glass, Heat Mirror offers unprecedented thermal insulation and comfort in a window, while helping to protect you, your loved ones, and your cherished belongings from harmful UV rays.
Insulating glass made with Heat Mirror technology can have an R-values from 7 to 10, which can insulate as well as typical walls. With such performance, windows made with Heat Mirror technology can substantially lower your energy bills.
Recognized by Popular Science magazine as one of the "Top 100 Inventions of the Millennium," Heat Mirror insulating glass has been used around the world in state-of-the-art buildings—from single-family homes to high-profile projects like the Empire State Building.