Installing New Patio Doors
If you are looking to upgrade or newly install patio doors, there are a few steps to take before and after installation. Though patio door installations are usually straight forward projects, they they are completed best when handled by professional experts. Freedom Windows door installation services and staff uphold a reputation for superior quality work. Consider Freedom Windows and the following key tips when designing and planning your next patio door remodel.
Schedule a Consultation & Select a Style of Door
There is more than one style choice when it comes to installing patio doors. Swinging, sliding and French style doors are some of the most popular options available. Swinging patio doors operate similarly to conventional doors, but have full glass rather than solid bodies, enabling a view of the outdoors from inside. French patio doors are double-door units, often consisting of one fixed and one operational door. Sliding patio doors, also known as bypass doors, are a space-saving option since they require no room to swing. Selecting the best type of door for your entryway and room space is the first step to having it ordered and installed.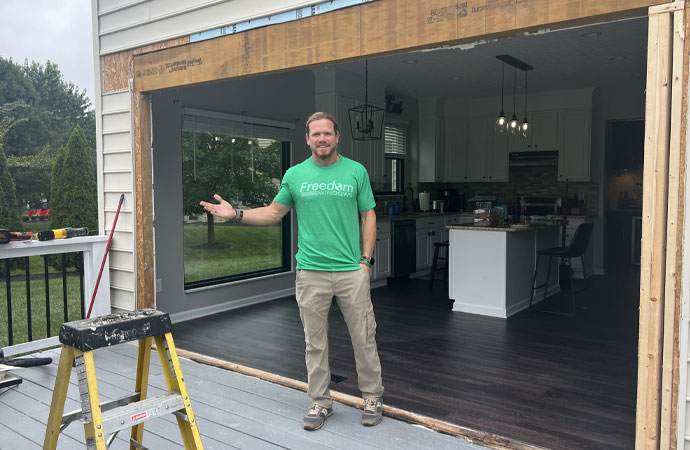 Prepare for Installation Services
Full installations require, of course, the enclosed wall to be prepared beforehand. This pre-installation process includes cutting out precisely measured wall area that's the size of your new door's opening, gutting insulation, re-routing electrical wiring, and finally adding framing for patio door installations.
Updating your current patio doors is not as much of a construction task as installing patio doors in a solid wall is. For upgrades, measure the existing doorway's dimensions, and be sure that your newly selected patio doors are within those capacities. Also, do not forget to consider your preference of left-handed or right-handed directions no matter which type of installation service you are in need of.
Final Installations & Finishing Steps
Once the above steps have been completed, your new patio doors can finally be installed. But this does not mean your patio door project is done. Be sure that the door is level and its frame is flush and secure. Also take note to conduct any interior and exterior repairs, from paint touch-ups to hole-filling and caulk-painting.
Choose Freedom Windows for All of Your Door Installation Services!
All of your needed patio door installation service are available at Freedom Windows. Call us now at 614-798-1133 for additional information and to set up a consultation. Whether you are interested in installation services for swinging, French or sliding patio doors, the experts at Freedom Windows are here for you!