Replacement Windows & Windows Installed in
Our Passion is Our Planet
We ALL share ONE Earth. It's in everyone's best interest to protect it.
Recognized by Popular Science as one of the "100 Best Inventions of the Millennium", our New HEAT MIRROR Solar Film Technology in The Freedom Window will significantly lower your energy bills, while helping to SAVE THE PLANET!
Here at Freedom Windows, we take this responsibly seriously and we are committed to delivering the worlds highest performance window products that save energy costs, while helping to save the environment.
Looking for the ENERGY STAR label is a simple way to save you money and help protect the environment. Now the EPA introduces ENERGY STAR Most Efficient 2017, a new distinction that recognizes products that deliver cutting edge energy efficiency along with the latest technological innovation. It's an award that truly represents the best of ENERGY STAR.
Be a part of the Go Green movement! BOOK NOW to learn how you can make a difference while updating and adding value to your home!
Backed With Our "Peace of Mind Promise" We've got you covered!
Replacement Windows & Entry Doors in Columbus OH & Surrounding Areas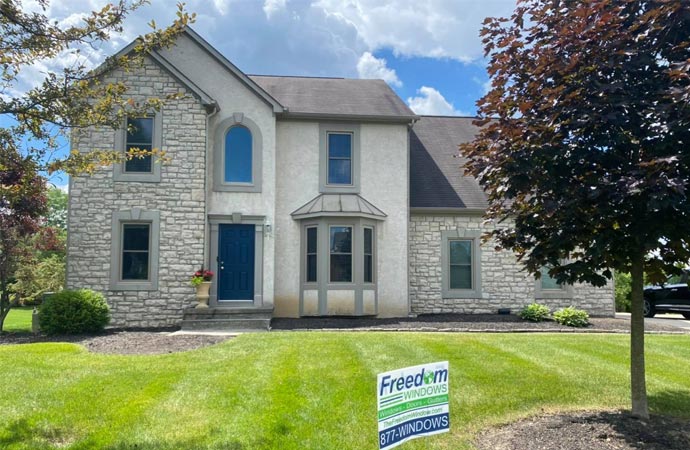 Providing Entry Doors, Patio Doors, Siding, Gutters and much more.
Let us take the worry out of your home improvement project. From your initial consultation with one of our Freedom Professionals, to your installation and our follow up walk final walk though, we've got you covered from start to finish!
Founded in 1984 with the promise of superior service to the construction industry, our installers and technicians have consistently strived to outperform their own high expectations. Combining high quality products with the most knowledgeable staff in the industry, we go out of our way to make sure your job goes as smoothly as possible.
We don't stop just because your project is finished, we will protect you, your family, and your home with the best warranties available in the industry today. Everything from a Lifetime "no fault" glass breakage warranty to a Lifetime screen replacement warranty, we've got you covered! No fine print, for as long as you own your home!

Contact The Window Installers in Amanda For Your Replacement Window Needs - The Freedom Window
Insured, licensed, and bonded, there's no more need to worry! FREEDOM means Peace of Mind!
Going GREEN has never been more affordable! Contact us today at 614-798-1133 for a free estimate.
Customer Reviews from Westerville
Completed Jobs from Westerville
Bart & Lori Wilson
August 8, 2017
Bart & Lori found out very quickly after receiving several estimates that thir new window project wouldn't be cheap, and Lori goes on to say, "Everyone had basically the same window energy efficiency to offer... so we thought... until we came across Freedom Windows. Their glass technology was night and day from what we had seen." We gave them our proposal, and they chose to go with Freedom Windows Huntington Line right then and there! The Freedom Huntington Window Line is a finely-crafted, vinyl replacement window that will improve the beauty and energy efficiency of their home. For Years the Wilson's have been having trouble with opening and shutting their windows, and also rotting wood falling apart allowing a lot of air infiltration. The good news; Each individually-constructed Freedom Huntington window has special features that provide the ultimate in strength, durability, comfort, and trouble-free operation. All of our Freedom Windows are constructed with fusion-welded frames and sashes, internal chambers filled with insulating foam dual-weather, sealed-reinforced vinyl interlock to prevent air and water infiltration and more, making them the perfect choice to maximize the indoor comfort of your home. If you notice form the before pictures, their gutters were also original with the home and in major needing of a lot of help. We decided to go ahead and replace them as well with large 6" gutters and also gutter protection to keep the Wilson's off the latter and keep their gutters clean. After installation was completed, Lori had this to say: (As seen on Home Advisor and on our review page): "Freedom windows are awesome!! Several months since install and I have noticed less noise from outside and also on the 90 degree days the house was so much cooler!! We do not have air conditioning!! Absolutely love my new patio door as well!! The actual install was very smooth and the guys were very respectful and cleaned up everything. The overall experience with freedom windows was fantastic and I am looking forward to lower electric bill this winter!" THANK YOU Bart and Lori, for your wonderful review, for trusting Freedom with your home, for your business and referrals! We appreciate you and we are glad you love your new windows (And Gutters).