Shake & Scallops Installation in Columbus, OH and Surrounding Areas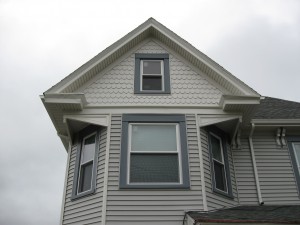 Shake and scallop are two types of siding that can give your property a unique textured appearance. They're constructed to have distinct patterns that make homes look like classic or rustic cottages – significantly increasing a building's curb appeal.
Aside from their beautiful designs, many of today's shakes and scallops are constructed to meet the demands of a modern home. This means that they feature a number of benefits and advantages, including:
Insulation and energy efficiency
Reduced splitting, cracking, warping or rotting
High resistance to inclement weather, impact, and strong winds
Ease of maintenance
However, you have to invest in quality shakes and scallops to fully appreciate their use. After all, poorly made siding materials get damaged easily and are most likely to underperform.
Quality Shake and Scallops at Freedom Windows
Fortunately, you can contact Freedom Windows if you're looking for an authorized dealer of high-quality shakes and scallops in Columbus, Ohio and the surrounding areas. Our company knows that not all homeowners share the same design preferences, so our options come in various styles and colors. Each type also comes with its own features and options.
Freedom Windows Architectural Shakes
Two different profiles
7" exposure and deep shadow lines
Created from actual cedar shake molds
Freedom Windows Architectural Scallops
5" curve and full 6" exposure
Deep shadow lines
Defined siding contours
If you're having trouble choosing a material, our experts will gladly help you out. They'll give you more information about shakes and scallops, as well as assist you in choosing which one fits your needs and budget.
After you've made a purchase, we'll have our fully licensed and certified technicians install it for you. Although carrying out the task by yourself sounds like a fun home improvement project, it's better to leave the job in our hands. We have the skill, experience, and the necessary tools to install them on your property with zero mistakes and delays.
If your existing shake or scallop is damaged, you can hire us to take care of the repairs. Our technicians are highly trained to handle any siding issue and can stop the problem from getting worse in a timely manner.
Just give us a call at 614-798-1133 for more information on our services. Our friendly operators will be waiting for your call.
Contact The Freedom Window Today!
Looking for a price? Get a no cost, no obligation!
Free Estimate!