Hinged Patio Door Installation in Columbus, OH and Surrounding Areas
There's no question that a patio door will improve the flow and interior aesthetic of your property. However, if you want to get the best value out of your purchase, you can't choose any ordinary piece. You need something that exhibits quality craftsmanship and unmatched durability. It should also be constructed to fit the specifications of your building.
For these reasons, Freedom Windows has dedicated itself to provide excellent patio door options to the residents of Columbus, Ohio and the surrounding areas.
Hinged Patio Doors at Freedom Windows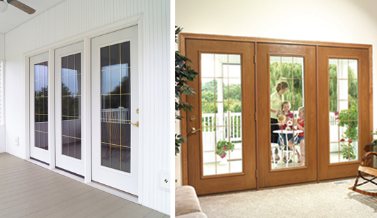 One type of patio door we offer is the hinged patio door. The Sahara heavy-duty extruded sill comes with a 1 ½" wide thermal barrier oak-like riser that gives it a natural touch. This thermal barrier is non-conductive and is resistant to warpage, so it'll keep the door standing strong.
Our hinged patio door also comes with several features, including:
One operable door
Available in 2- or 3-lite units
InVent retractable screen
If you're not satisfied with the height and weight of the hinged patio door, we can customize its dimensions by adding 1/8" increments.
Additionally, this entry system exceeds ENERGY STAR® criteria, so it'll help lower your heating and cooling costs. It'll also enhance your home's comfort levels, as well as add value to the property.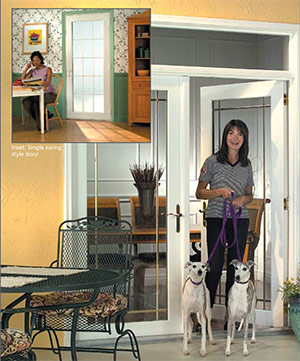 Let Us Handle The Hinged Patio Door Installation in Columbus & Central Ohio
Contact Freedom Windows if you're interested in our hinged patio doors. Our door experts will gladly assist you in choosing a piece and customization options that suit your needs and budget. Once you've made a purchase, we'll have our fully licensed and certified technicians deliver and install it for you.
Although it's possible to install the door on your property by yourself, it's better to let us handle the procedure instead. Our highly trained professionals are experienced servicing various types of patio doors and use the necessary tools to carry out the task properly. Plus, you won't have to do any of the complicated work, so you can relax while we take care of everything.
Just give us a call at 614-798-1133 and our customer service representatives will be right with you.